The Highest Standards of Cleaning
We take pride in delivering the highest standards in cleanliness and hygiene. Our team is well prepared and trained in protocols to ensure a safe, clean and healthy environment.
Before You Get Here
Thank you for following the guidelines set by the Health Officer of Monterey County.  Each department has a detailed set of procedures based on expert guidance from leaders in sanitization and safety.
We're Flexible
During uncertain times, travel plans can change. That's why we're flexible and waiving cancellation fees for individual reservations with full refunds if canceled outside of 72 hours prior to your stay for reservations directly made with Monterey Bay Inn.
Guests who booked via online travel sites or third-party agents are advised to contact their booking provider for their policies.
Travel Safe
We encourage guests and staff to take the recommended precautions and to not travel if you are not feeling well. Our staff and guests are like family to us and Monterey is our home. The safety of all three is and always will be part of who we are.
From Our General Manager
"We will continue to monitor the covid-19 situation through local and national health organizations. Our supportive thoughts are with everyone affected by COVID-19 and to all the essential and healthcare professionals."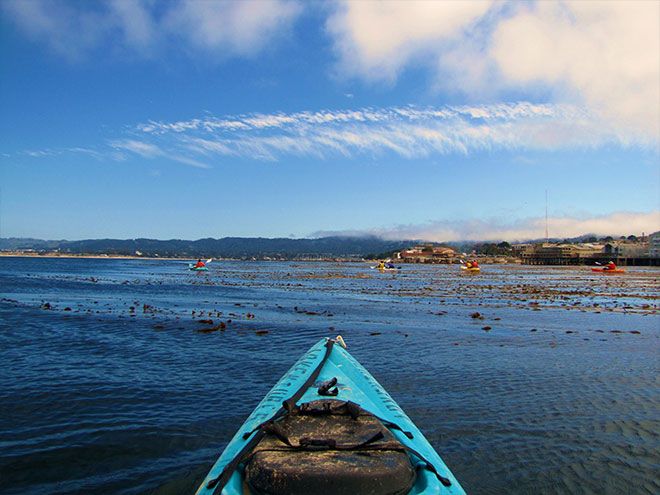 Go Local
Reconnect with nature in Monterey. Tee off on spectacular golf courses. Experience a whale watching tour on Monterey Bay. Explore idyllic beaches, parks, and hiking trails. Bike the Monterey Bay Coastal Recreational Trail. Authentic local experiences are steps away. Enjoy kayaking adventures on Monterey Bay, steps from our boutique hotel.
Traveler's Insights
Are the beaches in Monterey open?

Yes. The beaches in Monterey are now open for recreation and relaxation. Monterey Bay Inn is just a short walk to the beach.

Are the restaurants in Monterey open?

Yes, many restaurants in Monterey are open for indoor dining, patio, take-out, home and curbside delivery. Nearby restaurants include Estéban at our sister property, Casa Munras Garden Hotel & Spa or Lalla Oceanside Grill.